Unlike the European and Asian markets, America is the home of big cars. There are very few compact hatchbacks to join the race and Ford has its predominant position for sure. The new 2018 Ford Fiesta ST has even more exciting features just right to attract the younger generation and is much affordable. Yet Ford has packed the hatchback with cutting-edge technology, the world's first three-cylinder engine offering power and fuel efficiency when needed.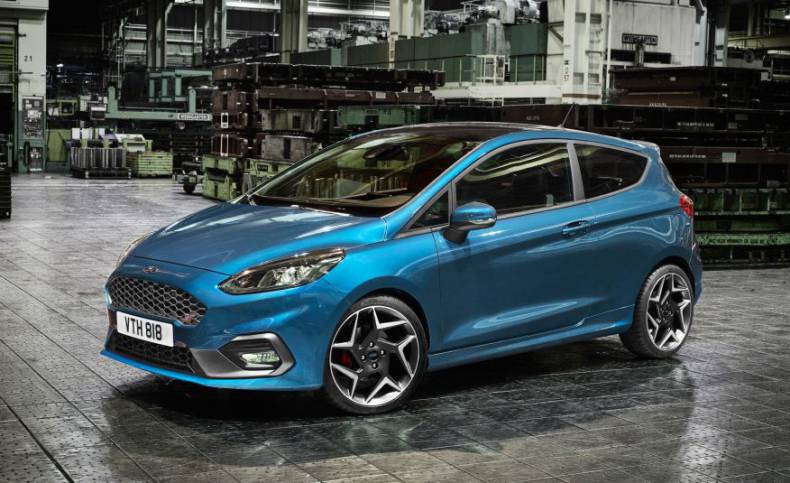 2018 Ford Fiesta ST Engine Specifications
Dressed with a turbocharged 1.5 liter EcoBoost three-cylinder turbo engine, reaching a mighty 197 horsepower for the ST is never an issue. Smooth and effortless driving experience is guaranteed and this car can reach 0-60 mph in just 6.7 seconds. Not bad for a hatchback. CO2 emissions have been brought down from 138g/km to 114g/km, thanks to Ford for its environmental concerns. For non-ST variants, the gutsy 1.6-liter four-cylinder and a turbocharged 1.0-liter three-cylinder EcoBoost will stand in to do the job.
Fiesta ST is designed for all situations as there are the three drive modes Normal, Sport and Track offer variations in driving experiences. Best for everyday office commute, normal mode is less power hungry and more fuel efficient. Sports offers a mix of both with responsive steering options while track opens the engines wide for a full throttle.
Ford's new cylinder deactivation technology promises to offer more on fuel efficiency by cutting down one cylinder when full engine performance is not needed. Similarly, the deactivated cylinder can be put in use in a mere 14 milliseconds back to step-up the power. Rumors float on four-wheel drive options, but Ford feels confident with the front wheel drive options on all variants.
2018 Ford Fiesta ST Interior
The sync 3 Infotainment and the 8 Inch standard touchscreen display offers more premium like technical features with ease of connectivity to a multitude of gadgets. Compatible with Apple CarPlay and Android Auto, Sync3 offers equally competitive features inspired by a tablet-like touchscreen for easy operations during various driving conditions. Superior audio from B&O can be added as per preference. The sporty Recaro seats enhance the look and comfort as Ford knows how to captivate the mass. More personalization on gear shifts, steering wheels, and even dashboards are available choices for ST variants.
2018 Ford Fiesta ST Exterior
Available both in three-door and five-door variations, the aggressive bodyline and bumpers make it look tougher. The 18 Inch five-spoke alloy wheels perfectly holds the car's body and gives its masculine look, but could have been designed better. Electrifying liquid blue is the standard offer expect a few other variations for a little more personalization.
Advanced front and tail LED lights enhance the sportiness of the hatchback. Clear driving view from the drive seat offers optimal and safe driving experience.
Release Date and Price
Guess Ford is not in a hurry as the non-ST Fiesta may hit the roads only during first part of 2018. The ST version will debut at the Geneva Auto Show 2017, production model may fall behind but not too long. This can't complain hatchback has a reasonable price tag of $22,335 gives yet another reason for the liking. Overall, the hatchback is lighter on the weight as well as the price tag and aims to offer fun on the run.