Ford has been in the business of manufacturing and supplying high-quality fleet police vehicles for a while now. The company's dominance in the police car market is undeniable and in 2010, they brought a whole angle into the scene by replacing the all-too-familiar Crown Victoria Police Interceptor was replaced with an interceptor whose original idea was adopted from the Ford Taurus. With over 63 percent of market share, the automaker has certainly made the police car market their own.
Ford is set to take yet another step further in its quest to dominate the police car market. The proposed introduction of the new 2018 Ford Police Responder Hybrid Sedan on Monday in preparation for the New York International Auto confirms this intent. This new line of police fleet vehicles is based on the Ford Fusion Hybrid and its bias for electric-powered vehicles but has been optimized in a unique fashion for police work only. Since this fleet of police vehicles will represent the first ever pursuit-oriented hybrid police cars, they will most certainly save the government and law enforcement agencies thousands of dollars that should have been spent on fuel.
The introduction of the Police Responder Hybrid Sedan into the market, Ford is creating a platform where customers can enjoy vehicles that are powered by electricity and are at the same time efficient and capable of being "up there" when it comes to productivity and vehicle performance.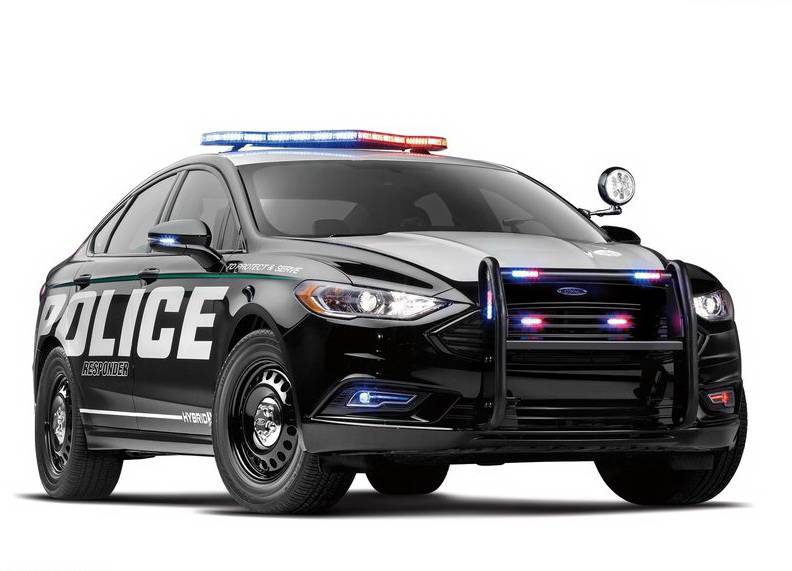 Interior
The interior is specialized for police work so we don't expect high-end designs, features, infotainment or anything of that nature. The inside of the 2018 Police Responder Hybrid Sedan is highlighted with rugged cloth front seats with well designed, slim bolsters to police duty belt some level of support. The vehicle is also fortified with other components that can be customized depending on police's needs; red and white task lighting dominating the overhead console; vinyl rear seats and floors that are easy to clean; anti-stab plates in the front seats and much more.
2018 Ford Police Responder Hybrid Sedan Exterior
Ford is expected to specifically make the 2018 Police Responder Hybrid have front deflector plates to the will serve as a protector that will help prevent damage. The wheels are also designed for police use; the kind that performs well in pursuits. The tires and hubcaps will also have the same police car design and pattern with a braking system that is regenerative in nature and also with 17-inch rotors and twin-piston calipers coupled with heavy-duty suspension components.
Engine and Performance
The new hybrid police car is expected to follow the path of Ford electric powered cars. Rumors have it that this hot-pursuit vehicle will be powered by a 2.0-liter Atkinson-cycle engine with an electric motor that draws its power from a 1.4-kilowatt lithium-ion battery. Ford' has infused its new hybrid technology into the engine design of the vehicle, so it will be no surprise if it actually delivers the estimated 38 miles mileage at every gallon consumed in combined driving.
When needed, the vehicle can switch from the battery power to engine mode. It is also estimated that the Police Responder Hybrid Sedan is capable of racking up to 60-mph on battery power but only makes the switch for maximum performance. It is also built and tested for strength so it can withstand tough obstacles and hindrances, and also runs at great speed and overcome seemingly flooded intersections.
Ford's new hybrid police car will spend a lot of time running on low speed and probably idling away time, hence the designed for urban patrolling. The engine idle time is minimized by making use of the lithium-ion battery embedded in it to power the vehicle.
This will most likely save the police department and indeed the government up to $3,877 on fuel cost and eliminate the need for police officers to always stop for refueling their patrol vehicles
Price and Release date
It is a police vehicle, so not much is known about the price, but the as for the release date, after its debut appearance in New York and Los Angeles, it can be ordered this spring and the delivery will be made in the summer of 2018.