Since the second generation of Ford Fusion was released into the market three years ago, it has become a top notch and a best seller car in its class. Every manufacturer knows change is inevitable especially in the automobile industry but what if the consumers are so in love with a certain model that nobody wants to alter the design too much to avoid upsetting the core fans. The 2016 Ford Fusion is a classic example of such a case since there has been minor changes to the model in a move to maintain the status quo.
2016 Ford Fusion will be produced in three trim levels, S, SE and Titanium. Also in versions with electric drive: Fusion Hybrid and Fusion Energi.
New Ford Fusion Exterior
Like the current model, the new Ford Fusion 2016 is a mid-size sedan capable of supporting 5 passengers with a 4 door entry. Perhaps the most distinguishable feature is the removal of front quarter windows visible in the 2013 model. Other minor changes include a different rear bumper, new taillights and headlights whereas the grille will not be altered. The available trim levels include SE, S and Titanium which are mostly differentiated by the size of the wheels and additional features.
Interior of 2016 Ford Fusion
The interior is probably the most redesigned part of the 2016 Ford Fusion since it features an advanced urban groove with better safety precautions. The dashboard is more elegant with a high quality finishing plus it provides extra space to remove extraneous clutter. In addition, a 4.2 touch screen display eliminating centre-stack buttons will be conveniently located on the dashboard, also available MyFord Touch® with 8-inch screen. Technology stands out in the interior of the next generation Ford Fusion especially the standard rear view camera and the MyFord Touch interface that can be synced with a Smartphone to control climate and radio.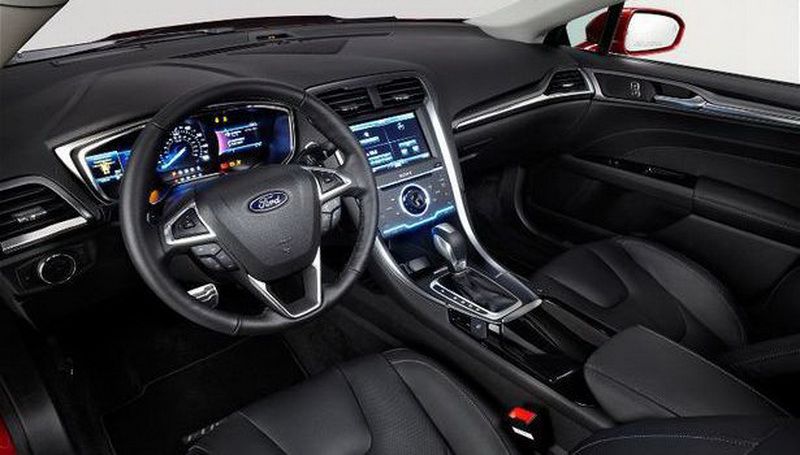 Engine and Specs
The redesigned Ford Fusion is equipped with a 2.5 litre 4 cylinder Atkinson engine that pumps up to 175 horsepower and 175 pound feet worth of torque. However, the Fusion Titanium includes a standard 2.0 litre engine with an optional all wheel drive. The SE trim level also includes additional turbocharged engine option with 1.5 litre 4 cylinder and a 2.0 litre 4 cylinder with a 4 wheel drive system. The latter produces 240 horsepower and 270 pound feet of torque while the former includes an output of 181 horsepower and 185 lb-ft of torque. The 2.0L turbocharged engine present in the 2016 Fusion Titanium is capable of accelerating 0-60 mph in 6.9 seconds, better than the current model. The 1.5 L turbocharged engine includes an appealing automatic stop/start option to improve fuel economy.
2016 Ford Fusion Hybrid  uses a 1.4 kWh lithium-ion battery that powers an electric motor in combination with a 2.0L Atkinson-cycle I-4 petrol engine and eCVT automatic transmission. Fuel consumption on hybrid version of Fusion is  44/41 mpg city / highway.
2016 Fusion Energi Plug-In Hybrid uses 2.0L I-4 Atkinson-cycle powertrain, coupled with an electronically controlled continuously variable transmission (ECVT) and a high-voltage electric motor and 7.6 kWh lithium-ion battery. Average fuel consumption in the city is 95 mpg while on the highway is about 81 mpg.
Release date and Price
The 2016 Ford Fusion is expected to be released early 2016 with the price ranging between $22,100 and $37,000 according to the trim level. Buyers who are willing to purchase the Fusion Titanium are expected to dig deeper into their pockets as the model will likely cost around $35,000.
Starting price for the 2016 Ford Fusion Hybrid S is $ 25.185, the Fusion SE 25,900, while the starting price of Fusion Hybrid Titanium cost of $ 30.940.
2016 Ford Fusion Energi will be sold at a starting MSRP price of $ 33.900