The eighth year in a row, Ford Motor Company has created an aviation-inspired Ford Mustang to make donation to Experimental Aircraft Association ( an international organization of aviation enthusiasts) youth education programs.
Based on a 2015 fastback Ford Mustang GT, designers and engineers have transformed the 5.0-liter car into the Apollo Edition Mustang. The 2015 Ford Mustang GT Apollo Edition was built for the 2015 EAA AirVenture Oshkosh fly-in, which is an annual air show organized by the Experimental Aircraft Association. With the past years' commemorative cars, Ford has been paying tribute to the SR-71 Blackbird, the Tuskegee Airmen, the U.S. Air Force Thunderbird aircraft, and the F-35 Lightning.
Exterior
Just like its air-themed Mustang predecessors, this one is also adorned with aeronautical cues inside and out. The vehicle features a custom two tone black and glossy white color scheme with red accents on the hood, the roof, and the mirror caps , carbon fiber front splitter, rear diffuser, rocker moldings, as well as orange LED underbody lighting in order to achieve the effect of atmospheric re-entry. Red USA stickers create a subtle visual association between the Mustang and the space shuttle that inspired it.
Overall, the exterior look delivers a creative link with the NASA Apollo program.
2015 Ford Mustang GT Apollo Edition Interior
Inside the 2015 Ford Mustang GT Apollo, there is a customized instrument cluster, sill plates, and custom embroidered seats (with the rear seat deleted). The cockpit has been groomed with leather upholstered bucket seats with white contrast stitching, of course red and white accents on the center console, Apollo Project emblems embroidered into the front seat backs, and a new instrument cluster.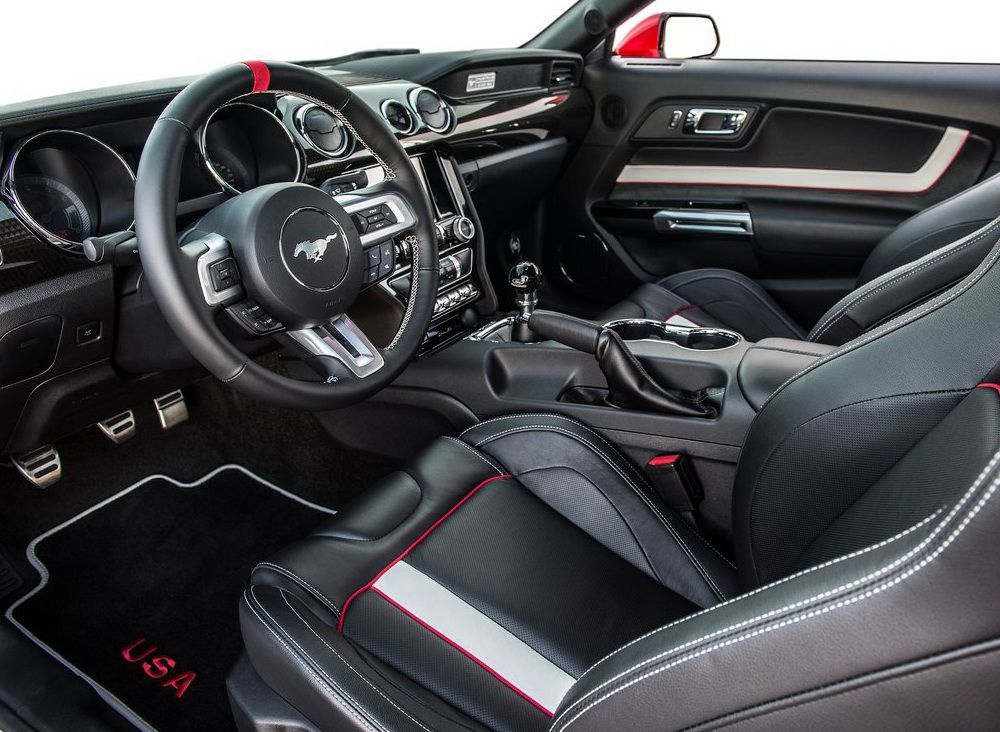 Engine Specs and performance
Not only does the 2015 Ford Mustang GT Apollo Edition look like a rocket, but is almost as fast as one, too. Under the hood it has a tuned Mustang GT sourced 5.0-liter that uses a Ford Performance supercharger to deliver 627 horsepower and 540 pound-feet of torque. The engine is paired up with a 6-speed manual transmission which sends power to the rear wheels, whereas Brembo brakes and a sport-tuned suspension keep the extra grunt in check. An estimated 0-60 mph acceleration is about 3.6 seconds, and top speed exceeding 180 mph.
As for the performance enhancements, they include a performance package, Ford Performance supercharger and shifter, X pipe with side and rear exhaust, sport-tuned suspension, six piston Brembo brakes and custom Forgiato 21" performance wheels.
Price and release date
The 2015 Ford Mustang GT Apollo will be presented for auction at AirVenture on July 23. Apollo Edition at auction reached a price of $ 230,000.
The unique vehicles that support EAA youth education programs including Young Eagles, are:
2008 – Mustang AV8R, with cues from F-22 Raptor, which helped introduce the glass-roof canopy and delivered an auction contribution of $500,000.
2009 – AV-X10 "Dearborn Doll" Mustang, crafted in honor of the World War II aircraft.
2010 – Two automotive icons – the late Carroll Shelby, former U.S. Air Force flight instructor, and Jack Roush, longtime P-51 pilot – collaborated for the first time to create the SR-71 Blackbird Mustang inspired by legendary reconnaissance jet.
2011 – Blue Angels Mustang, created to celebrate 100 years of U.S. naval aviation.
2012 – Red Tails Mustang, to pay homage to Tuskegee Airmen – courageous squadron of P-51 Mustang pilots who were the United States' first African American military airmen.
2013 – U.S. Air Force Thunderbirds Edition Mustang, built to celebrate the 60th anniversary of the U.S. Air Force Thunderbirds demonstration team.
2014 – F-35 Lightning Edition II Mustang, which featured design cues from the world's most advanced multirole fighter jet – the F-35 Lightning.
Seven previous models has collected a total of nearly $ 3 million for the EAA youth aviation programs.