Just a few years back, only supercars had power-plants that churned out over 600 horses. Well, this level is no longer a preserve of the supercars as many SUVs and crossovers are increasingly joining this level of power output. Now the Hennessey Performance Engineering has done one better, they have tuned the Ford Raptor truck to churn out more than 600 hp. With this power, you will be cruising on the off-roads as if they were kevel ground. The performance-engineering house has added a performance package dubbed the 2017 Ford F-150 Hennessey VelociRaptor to give the truck an amazing dose of energy and enthusiasm. Read along for more information: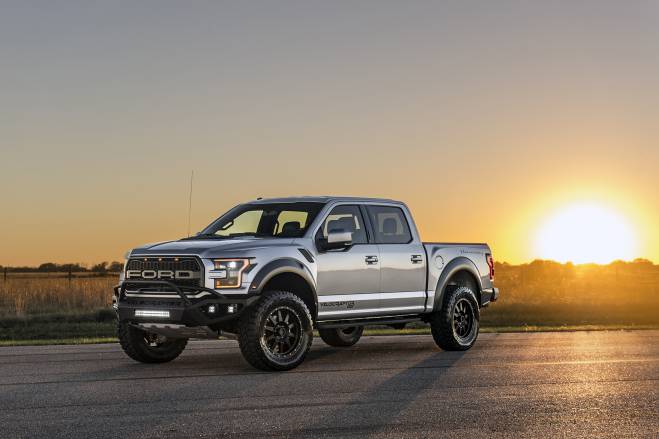 2017 Ford F-150 Hennessey VelociRaptor Closer look at the upgrades
Excellent standard engine
In its standard form, the 2017 Ford Raptor Truck is already fitted with an impressive mill; a twin-turbocharged EcoBoost, 6-cylinder engine with a displacement of 3.5 liters. The engine produces an impressive 450 horses and 510 lb-ft of torque.  With an ECU tune that costs $695, Hennessey can tune the truck to add 30 hp and 30 lb-ft of torque. However, the performance house figured that they could make the truck even better, particularly for those buyers who like extra power in their trucks. For $2,995, Hennessey will offer you the VelociRaptor 500 package that bumps up output to 500 hp. This is courtesy of a stainless steel Catback exhaust system, air filters and a high-flow intake.
The Velociraptor 600 Twin Turbo package
The most interesting news is their new offer, the VelociRaptor 600 Twin Turbo. This package takes power output to a whopping 605 horses and 622 lb-ft of torque. With all this juice, the truck completes a 0-60 mph run in4.2 seconds. It completes a quarter-mile in 12.9 seconds. These are quite amazing figures for an off-road dedicated truck. This power hike is courtesy of upgraded turbochargers, a new high-flow air induction setup, a stainless steel exhaust setup, dyno testing, ECU upgrade as well as an air-to-air front-mounted intercooler.
The package also comes with special plaques on its cabin and under the hood to show it is not a regular Raptor truck. The model also has a 3 year/36,000-mile warranty. These upgrades come at a $22,500 price tag.
Off-road Stage 1 package
When you get such performance upgrades, it is likely you will desire your VelociRaptor to look different from the standard models, well Hennessey offers an exterior package separately. The package dubbed the "Off-road Stage 1" is available for an extra $12,995. The package adds special bumpers (front and rear), LED lighting, a front suspension leveling kit, 20-inch ten-spoke Hennessey wheels wrapped in 35-inch Toyo tires as well as a 3-inch suspension lift.
Extreme Engineering
If you feel the VelociRaptor 600 Twin Turbo is not enough for you, Hennessey offers to build you a 6-wheeled VelociRaptor that can crank out an amazing 700 horses. This record-breaking truck would cost you a whopping $295,000.
Price and release date
Hennessey is already accepting orders.  The performance house will build only 100 VelociRaptors.  You had better hurry to reserve yours for most certainly; these models will sell out in no time. If you miss out you can wait for the 6-wheeled 700-hp VelociRaptor 6×6.